Kuwait is a beautiful country that people rarely mention when suggesting new places to travel. Tucked right above the Persian Gulf, Kuwait has one of the tallest skyscrapers in the world to commemorate its freedom, overshadowing the authentic beauty of its number of mosques, museums, and other historic sites. When you go around the city, apart from taxis, bus services make up Kuwait's entire public transport network as the country currently has no rail infrastructure. Several railways have been planned for many years but no plans have materialized.
Kuwait has several tourist attractions that you'll enjoy visiting. I will list for you some of the top attractions you must visit when you travel there.
Al Hamra – City this the tallest tower in Kuwait and the 15th tallest sculpted tower in the world.
Liberation Tower – this is the second tallest building in Kuwait.
The Grand Mosque – This is the largest mosque in Kuwait.
Those are the main attraction you cannot miss.  You can take bus from airport to those attraction easily.  Further, most road signs are in English and Arabic, although there are no signs posted in many streets.  From https://www.visit-kuwait.com,  traffic is a major problem here, as the vehicle numbers on the roads are growing by the year, and the government is seriously addressing this issue by improving the roads and developing transport links to include a rapid transit system along the coast.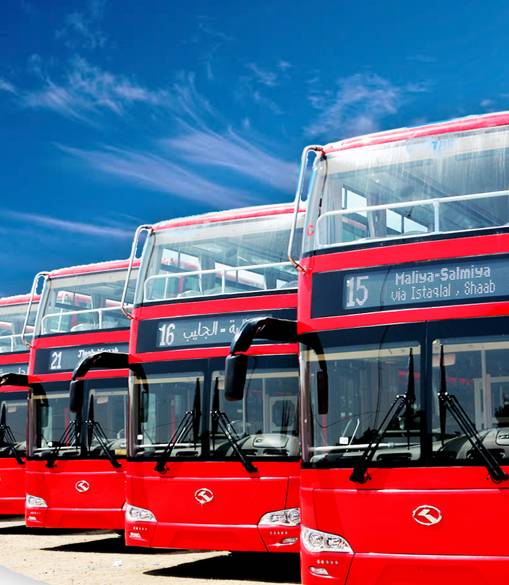 How to get around the attractions
You can buy single and Day pass tickets from the bus driver as you get on the bus. Pay cash to the bus driver as you get on the bus for single tickets. If you're making several journeys in the day a Day pass ticket may well save money. The driver will also be able to advise you on the best ticket to get. The ticket fee from citybus company are almost all about 200 fils, 250 fils, 300 fils and 500 fils.
The bus network is extensive and economy. The bus from Kuwait Public Transport Company which has air-conditioned and very comfortable. Intercity trips cost just a few fils per ride. The City Bus routes are similar but isn't quite as reliable. Both services are used primarily by lower-income workers travelling to their jobs. Will autofare.net help to improve the bus service and reliability? I guess this is a good opportunity if this help to improve the experience of travel.
From statista.com, the total number of hotels in Kuwait in 2017, by class. In that year, there were 42 hotel apartments, 13 three star hotels, 10 four star hotels, nine resorts, ten five star hotels, four hotels with two star and two hotels with a one star ratings in Kuwait.
To book a hotel in Kuwait, please visit CharityiBonus for booking hotel with donation at the same time: https://bit.ly/2pWU6H8
To learn more about autofare, please visit autofare.net