I spent almost 2 weeks on searching the hotel and place for visit in Ikaho. Going through most of the hotel booking site to read the hotel comment, searching the location on google map. On choosing the onsen hotel, this is my top searching criteria : Location, Kaiseki Dinner, Onsen outlook and Price.
Ikaho town is located up onto the mountain and the hotel is scattered. The top attraction in Ikaho town is the stone stairs which has 365 steps. So, we chose a hotel which is near the bus stop and easy to go anywhere by bus. Also near stone stairs is important so as to easy going back to hotel after shopping at stone stairs. Finally, Matsumotoro松本樓 is the ryokan we stay.
This hotel has 4 bests:
Best location: This is just 3 mins away from "Miharashi-shita見晴下" bus stop and this is where we can go from or to Tokyo by JR bus and from Mizusawa. Mizusawa is a valuable place to experience 300-400 years of history of udon烏冬 which is one of the Japan's 3 top varieties of udon. Moreover, this ryokan is just 10 mins walk to the stone stairs' entrance. Since ikaho town is located in slope of Mount Haruna, most hotels are located up onto the hill. You may have to walk up to the hill to reach other hotels or taking a local bus. If you are travelled from Tokyo, this is easy to access by JR Bus 2.5 hours and get off at "Mikarashi-shita" stop.
After check-in and putting our luggage in the room, we go to the stone steps and go all the way up to the top level. There are some tradition game shops and souvenir shops selling all manner of traditional toys, sweets and local products.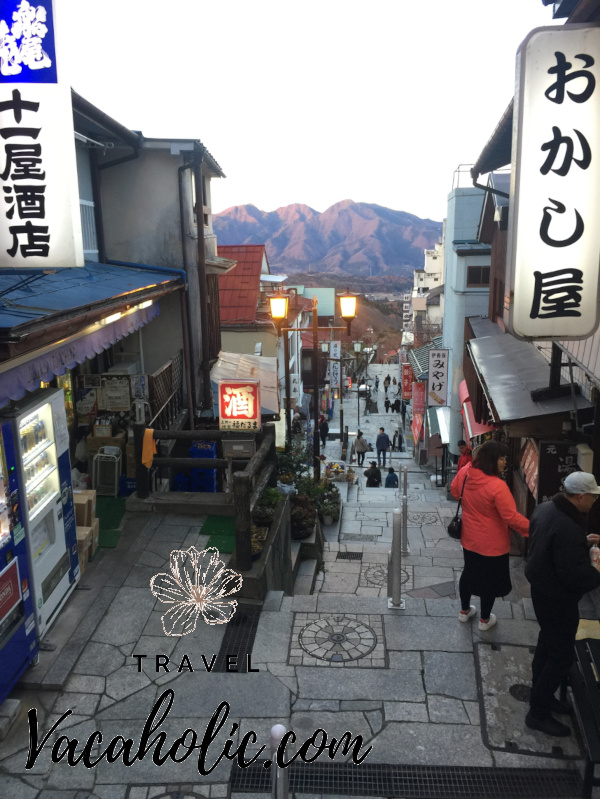 The next morning we went to udon street after breakfast.  There is only one main food to serve in those 13 restaurants in the udon street called Mizusawa udon.  This udon's origin can be traced back about 400 years.  For detail about Mizusawa udon : https://japan-brand.jnto.go.jp/foods/noodles/3305/. Some restaurants are closed on wednesday some are closed on thursday.  But surely you are still able to try on these days as there are 13 restaurants you can choose.  For detail about the restaurants open hours : http://www.ikaho-kankou.com/multilingual/ch_h/dining.html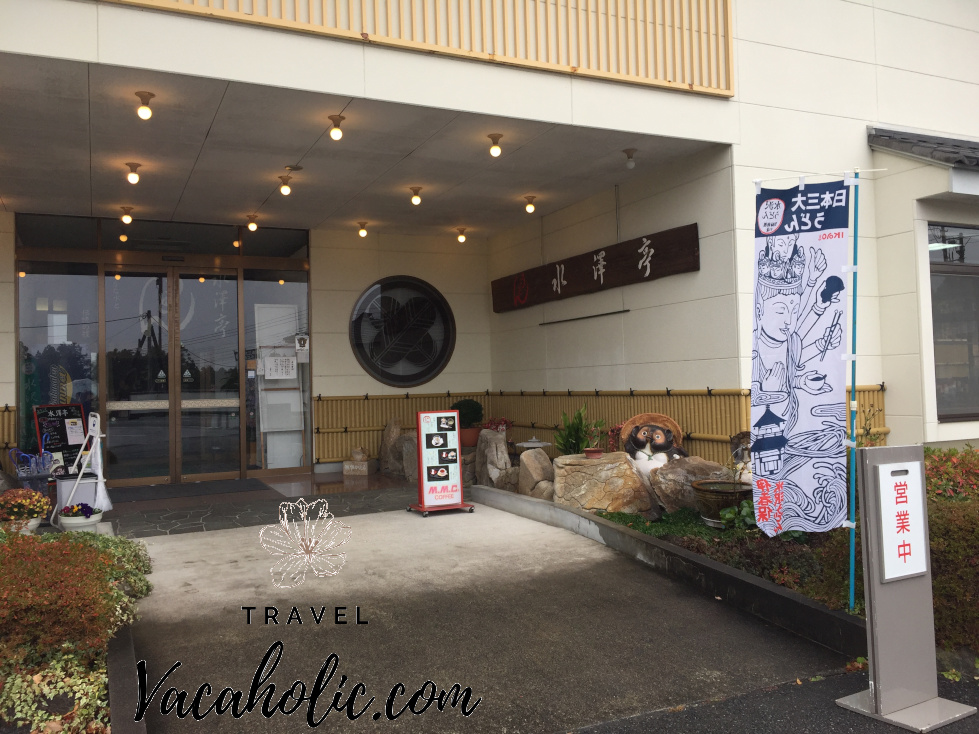 Best dinner:  There are still some hotels serving good kaiseki dinner, however, we had read different booking site and it is seldom mentioned about dinner at this hotel.  Some comment say the dinner is french or chinese dinner option.  Surprisingly, what they served was a very nice japanese style dinner in our room.  There was also a nice dessert at the end which contained a Gunma icon wafer biscuit with red bean and cream putting in by ourselves.  One tip is that there are no much place to eat nearby as we were coming back from stone steps to hotel and haven't seen any interesting place to eat although there are still one noodle restaurant beside.  So, it is better to have dinner at hotel.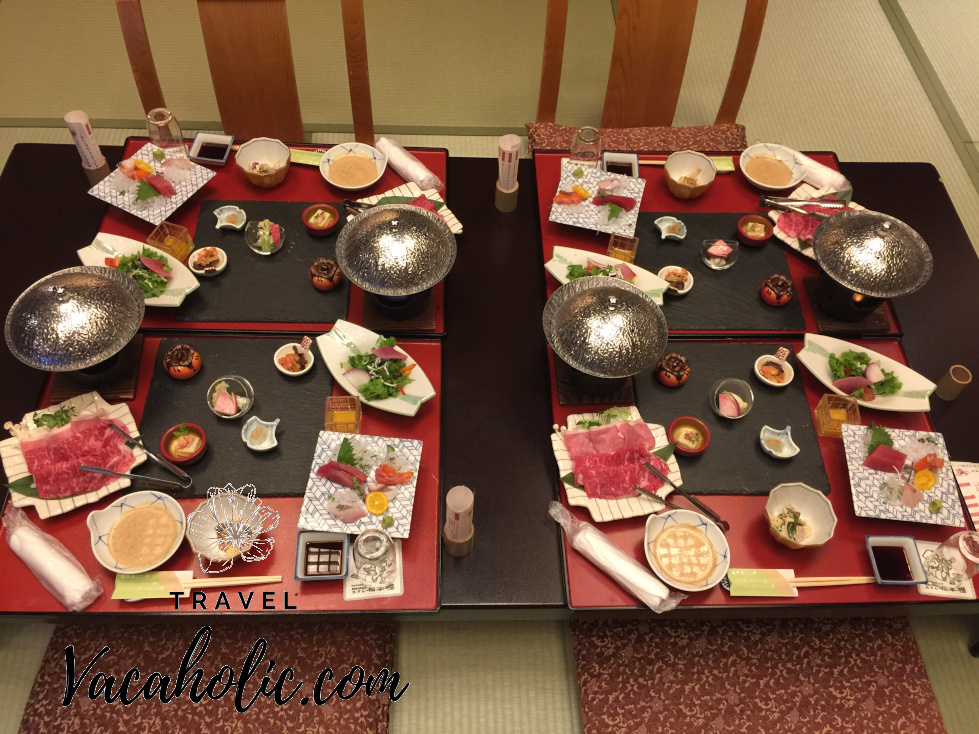 Best onsen: The hotsring contains both indoor and outdoor bath.  Both golden and silver hotspring are provided.  Different color of hotspring has different functions.  Searching for detail say that golden hotspring has more mineral of Iron and it is good for ladies. The view in the room are mountain view.  We went there on 5 Dec, 2018, although there was no snow, it's cold enough to have this comfortable hotspring.  The snow should have dropped onto your shoulder when taking outdoor bath if there is snowing.  The sun start going down at 4:30pm, so we can't see much view when we were taking outdoor bath at night.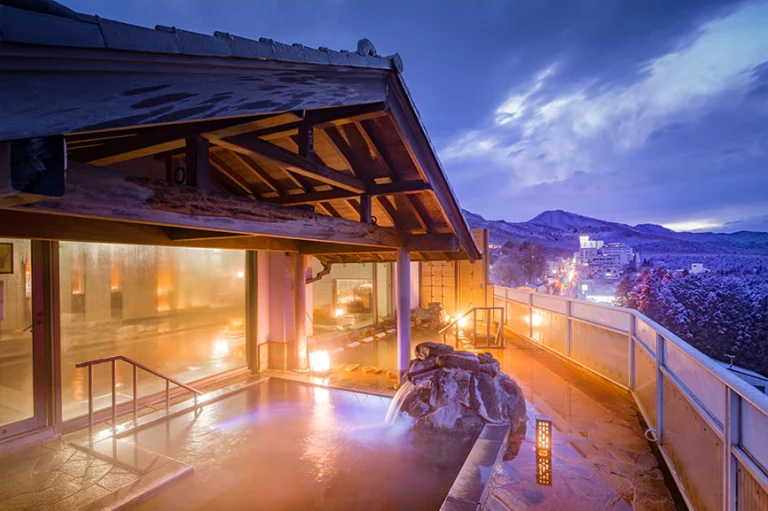 Image Source : http://www.matsumotoro.com
Best price: We have two Japanese Style non-smoking room with 2 people in each. Including breakfast and dinner, it costed 42600 yen including hotspring tax for two rooms. So, it was just 21,300 yen per room per night. The price is comparatively cost-effective among those onsen hotels near to the Ikaho stone stairs. There is one nice onsen hotel Oyado Tamaki玉樹 just near the main bus stop and just at the entrance of stone steps, however, the price was 30% more.
By Oasis
Travel cash back : http://charityibonus.com/gchan2000