Kawachi Fuji-en is a private garden exclusive for wisteria which opens only wisteria blooming season in late April and autumn foliage. It is one of CNN's "31 Most Beautiful Places In Japan." Kawachi Fujien is only open twice a year for wisteria in spring and coloured leaves in autumn. The wisteria garden's opening period between late April and beginning of May (varies depending on the weather). I visit on 26 April 2019 and I buy the entrance ticket online through Japanican earlier in March. The entrance ticket is 500 yen each, however, you may request to pay extra 500-1000 yen if the flower has grown a lot. At the time, I pay 500 yen extra and heard that the flower is 60% grown.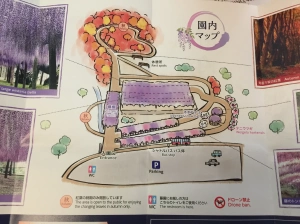 During Wisteria Flowers period (Late April – beginning of May), there are 22 kinds of wisteria, e.g Noda Nagafuji, Alborosea, Reddish purple, Red, White, Violaceoplena, Long, Medium, Short.
During Autumn Leaves period (Mid. of November – early December), There are approximately 700 trees and there are 18 trees more than 70 years old.
The area of the wisteria garden is more or less than a football field, 1-2 hours enough for visiting. There are about 3300 square meters of large wisteria trellis, Wisteria dome and Wisteria tunnel.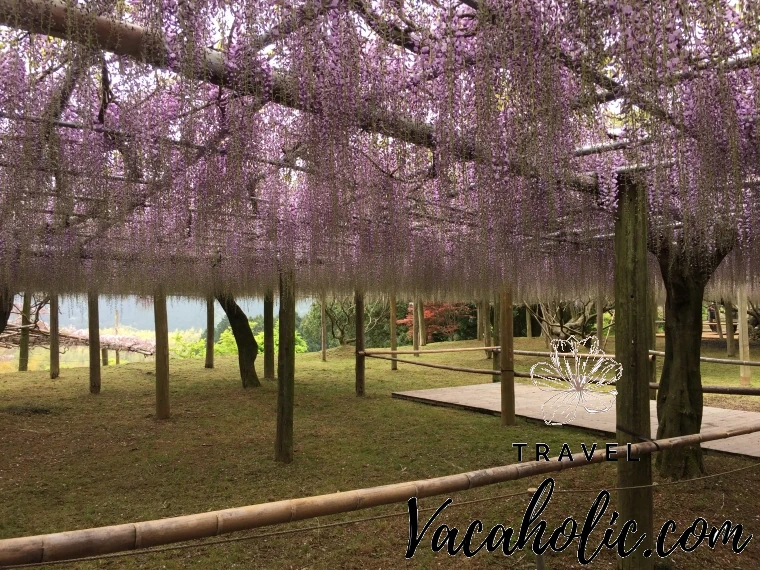 How to go there from Hakata(博多) station
Check the train schedule time from Hakata to Yahata(八幡) station. You can check by the apps "JapanTransit" in english or "乘換案內" in japanese kanji. The result below shows examples of the way to go from Hakata to Yahata. Both trains below can go with your North Kyushu JR Pass. No reservation is needed.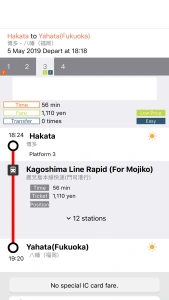 I bought JR pass in cheaper price officially here:
3/5 Day JR All/North Kyushu Pass (Japan Pick Up)
At yahata station, you can take the free shuttle bus from station to the garden. The time schedule of the shuttle bus this year: https://kawachi-fujien.com/pdf/2019_shuttle.pdf
The official say that you must have the entrance ticket of the garden in order to take this shuttle bus, however, they didn't check my tickets.  The bus took 30 mins to go there.  If you take taxi, it could be about 3000 yen.
Garden opening hours: 8:00~18:00
Date: 20 April to 6 May 2019
It is very instagrammable, a must place to go in Fukuoka!
By GCSharing
A very economic hotel to stay:
Court hotel Fukuoka Tenjin : https://bit.ly/2WtN73i