In Aug 2019, I had a journey to the north-west of China for 8 days.  Dun Huang, Turpan, Ürümqi, Zhangye.  It's a fascinating, exciting place as there are many 4A or even 5A Tourist Attractions of China.  Those places have popular fruits as well like dry grapes Turpan, mellon in Xinjiang, Guazhou, etc. Actually, most of the shopping place accept China e-wallet like wechat, alipay.  We went to the bar at the roof-top of the hotel in Dunhuang and ate some Shish kebab, roasted mushroom and melon juice.  The melon juice and roasted mushroom are delicious.  Luckily my friend had Alipay China e-wallet, otherwise, I still have my own credit card I can use but I need to bear with the rate and charge.  In the souvenir shop, e-wallet is necessary even for a post card.
But there are still some street stalls like this below accept cash. Some shops in the open market accepting both cash and e-wallet.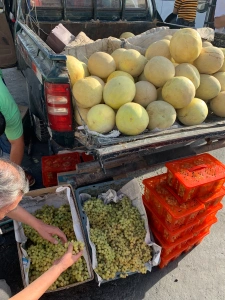 Back in Hong Kong, I decide to activate China e-wallet like wechat and alipay.  I hooked up to use e-wallet like Payme, AlipayHK, Wechat, Apple Pay, but never the China's one.  At last, I have made succeed.  There are 4 easy steps below without going to China:
1. Buy a sim card. 
There are 2 different types: monthly or prepaid.
In Prepaid , there are 2 different charge type : RMB19/month or RMB6/month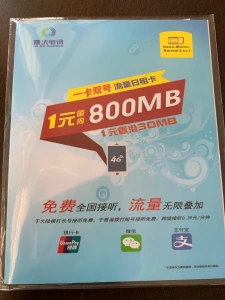 I bought this one (one card with 2 numbers) which charge RMB6 per month, the cost I've paid for the card is $250 in Tsuen Wan but i'm sure it will be cheaper buying in other place like Sham Shui Po.
This card contain RMB50 inside. It will basically charge RMB6 each month for the Caller ID function, this is to maintain the card even if you didn't use the card. RMB1 per 800MB data in China and RMB1 per 30MB data in Hong Kong. It will charge RMB1/day even use only 0.1MB on that day.
2. Online submit the True Identity Registration form
Fill in a hard copy application form (can be collected from the sim card seller). Fill out your Name, your china number (showing on the sim card). Follow the steps on the QR code in the leaflet of the sim card. In online application form, you will need to capture your China document, hard copy form, and your picture at real time. Make sure your picture is clearly show your face and above waist, without holding the sim card.
Once submit success, you will see the Submission success screen. If not, please do again.
To check your result, use the same QR code you scan before (showing on the leaflet of sim card), select person center -> my order -> online registration.
3. Open a mainland bank account
Can do in any branch of the Bank of China in Hong Kong, if you already have a BOC hong kong account, please bring along only your ID, China document and the sim card. This action is to fill out the document they provided and they will submit to the branch in China. However, you will have to wait for less than 10 days before you collect your debit card.
When you collect your debit card, at the same time, you can remit money at the counter free of service charge. This free remittance charge only apply at the time when you collect your debit card.
4. Link your debit card to Wechat or Alipay
Wechat: For iphone , this is the same app as the HK and China wechat, just only Wallet region is different
Open wechat , Go to "Wechat Pay"
At the top right corner, click "…", select FAQ
Select "How can a WeChat Pay HK user activate and use the Mainland China wallet"
One the First paragraph, click "Click here"
Follows the steps to add card (debit card), document ID (if you are carrying the Mainland Travel Permit for Hong Kong and Macau Residents, enter the first Alphabet and the first 8-digit only)
You can then switch wallet region, in wechat pay, select top right corner "…", click "Select Wallet Region"
Now you can top up your balance or receive RMB sent from your friend.
Alipay: Please download another app for Alipay China. It is different app from AlipayHK.
Select "Me" at the bottom
Select "Bank Cards"
Add card, similar process as above.
Alipay and Wechat pay let you shop for goods and services on the internet and even in the real "bricks and mortar" world. So, when travelling to China next time, my real wallet is lighter as I will be using e-wallet.