What is your top searching criteria for a room?  Price first or location first or facility first?  If you are travel for free, it must be a hard time to find a hotel which consist of Economy, Convenient, Enough facility, etc.  It is not the basic things that a hotel must offer, but there are only 3 easy steps to find a hotel which are almost closed to you needs.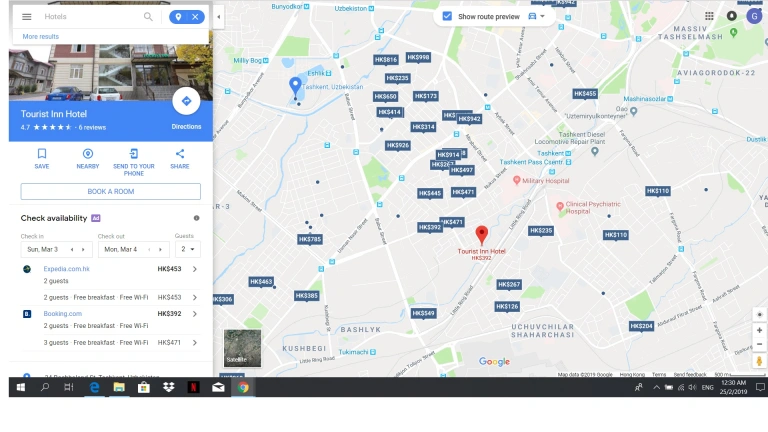 STEP 1. USING GOOGLE MAP TO LOCATE THE DISTRICT (THIS IS LOCATION ORIENTED)
This action can achieve two requirements: Location and Price.
Type in the airport name that you landed on Google map. It is more accurate to enter the airport name but not only the city or country name in order to locate where you will land. Zoom in to the district you go, and then you can see there are some hotel icons. If you are travel with a car, you can zoom out a little to find the place you want to go first. Once you are zooming in enough, you can see hotel icons, click on any hotel, you will find a list of price that the most popular hotel booking site offer on the left panel. This is powerful that it shows the price comparison and the location in one go. However, this price information does not included the date and the type of rooms available, it only show the cheapest price offered on the same hotel by different site. At this moment, you are able to find the way of transport from airport to the city or to the hotel directly by using google map's direction. You can see if there ares restaurants and bars , or supermarket around.
STEP 2. CHECK THE ROOM AVAILABILITY (THIS IS PRICE ORIENTED)
It is good enough to select 2 to 3 hotel booking sites according to the left panel on the google map.  From the hotel booking site, 3 things must be filled, the specific hotel name, date and number of people.  For example if you travel in a group of 3 people, instead of triple room, some room with twin or double bed also capable for extra person with an extra sofa in the room or allow to request extra bed depend on the size of the room.  If the room does not fitted your needs, you can :
a. try other hotel in Google map and check again.
or
b. select "Sorting by distance" that you can list out all the nearest hotel to the hotel you selected before with price.
STEP 3. CHECK THE ROOM FACILITY
In the page which showing a list of hotel room, check the feature of the room to see if it meet your requirement.
Lastly, remember to read the comments. I normally read around 20-40 comments to see any special things that may affect my decision. Except the comment of service and quality of room or meal, something you can't think of but the hotel site may not mentioned. For example the location is opposite to a funeral parlour, the fee of car park beside, etc. People can tell one thing that may change you decision, cause people always look for a hotel which has several top priorities. Except Price and Location and Facility, a Meal quality could also be important if it is a rural resort place.
Lastly, if the specific room is sold out, it is always good to check with that room for several days from different sites. I recently experience a couple of time that the targeted room is available again but it was sold out since I started searching a week before.
By Oasis
Travel cash back : http://charityibonus.com/gchan2000